Kevin Wernli
Physiotherapist & PhD Candidate
(2-3 minute read)
On the last day of 2019, the British Journal of Sports Medicine (BJSM) published an article titled: Back to basics: 10 facts every person should know about back pain. The authors of the article have now produced TWO videos (watch below) and have several podcast episodes discussing each fact in detail with patient voices and prominent world-leading clinical researchers (like Professor Rachel Buchbinder – who led the acclaimed low back pain series in the prestigious medical journal The Lancet, and Professor Ian Harris, renowned Orthopaedic Surgeon and Author of 'Surgery, the Ultimate Placebo').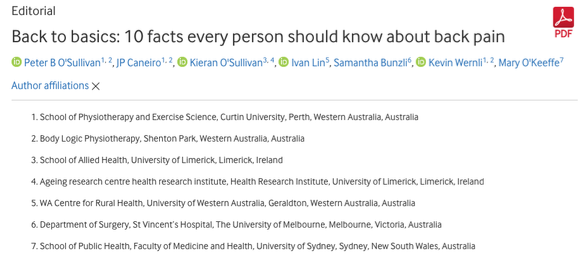 A 'behind-the-paper' look into its origins:
The origins story that motivated this paper can be listened to and watched in episode 4 of the Empowered Beyond Pain Podcast as authors Kevin Wernli, JP Caneiro and Professor Peter O'Sullivan sit down to candidly discuss the motivations behind the paper, and includes a little-known personal story (which is elaborated on in Episode 17: The Mtyh of Core Stability)
The paper has been very popular with a big Altmetric score (a score that provides an overview for how much attention a research article gets) and almost 150'000 downloads – making it one of the most popular editorials in the BJSM ever!
"Why didn't anyone tell me?"
As discussed in Episode 4 of the Empowered Beyond Pain podcast, the origins of the paper lie in the stories of patients who unknowingly held onto limiting and inaccurate beliefs (the 'myths' in the paper) and were helped to replace these with 'things closer to the truth' (the 'facts' in the paper). A common remark from those who improve is: "why didn't anyone tell me these facts" or "why aren't these facts common knowledge". These thoughts are echoed among many, highlighting the substantial lag between research findings and clinical practice (said to be about 17 years). As authors, we wanted to try and help facilitate the dissemination and translation of this research. BJSM helped us out tremendously by making the article open access, meaning it was free to read in full and no longer behind a paywall. But not everyone engages with research articles (understandably, they can be long and complex) so we wanted to provide additional media to share the message in a bid to reach and help more people. In part, this was achieved through the below infographic embedded in the paper.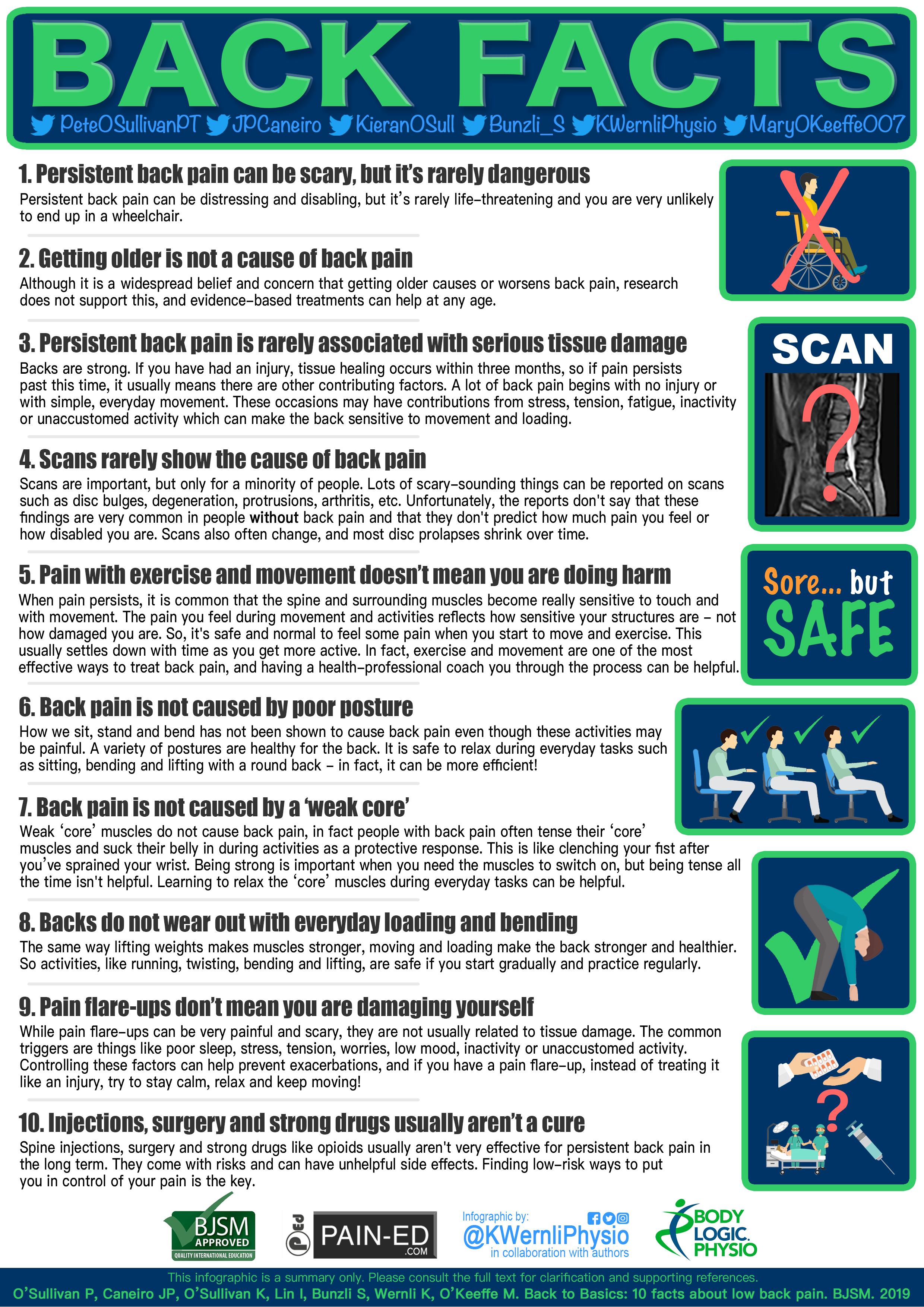 If a picture speaks a thousand words, and an infographic maybe more, then how many words does a video speak?
To further help spread the message, we decided to create a video that illustrates the facts. And while we (the authors) have had personal experiences with pain, including pain that was at times debilitating, and have published widely on the topic of persistent pain, we wanted to hear it from those who have had their lives on hold because of disabling pain. So, we enlisted the help of 10 everyday people that did have this lived experience. Some of these people you may recognise as prominent global patient advocates (such as Joletta Belton, Adrian McGregor, Pete Moore and Tina); or from previous media created to try and spread contemporary pain knowledge (such as Jamie from PainHealth, Joe from The West Australian Newspaper, and Anthony from this 1 minute video); while others were just willing to share their story knowing it may help those in similar situations. Many of these patient voices share their stories in a longer format on the Empowered Beyond Pain podcast. We are so grateful for their support of this initiative, the final videos wouldn't have been possible without them! So, a huge thanks to them!
THE BACK-PAIN FACTS VIDEO:
Further to just the facts, we wanted to share some of the stories of the people who presented the facts, which gave rise to the second video, "Stories behind the facts".
STORIES BEHIND THE FACTS VIDEO
You'll hear a lot of similarities between each patient story, like how they were in a dark world of pain, fear and worry, or how a key mindset shift from 'damaged and vulnerable' to 'confident and carefree' was important for their recovery. The journey of 'mindset shift' is something we've captured before (see infographic below). We also wrote a blog about this here.
Finally, the Empowered Beyond Pain Podcast (co-hosted by some of the authors of the paper: Kevin Wernli, Professor Peter O'Sullivan and Dr JP Caneiro) dedicated episode 11-20 (corresponding with fact 1-10) to each fact, and explored them in detail with leading researchers and patient voices in an easy to digest way (it's aimed at empowering people with pain, so there's not much medical jargon). We've had great feedback from both people with pain, but also clinicians, on the podcast so far! Episode 5 also features a bit more of an in-depth chat with global pain patient advocate, Joletta Belton. Have a listen below, watch on youtube, or listen on your favourite podcast players.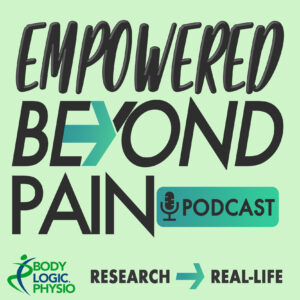 Listen, subscribe, rate and review on your favourite podcast platforms below.
We sincerely hope the articles, infographics, videos and podcasts we're involved with help spread these important messages and help nudge people down the road to recovery. If you have suggestions for future research papers, dissemination strategies or have other questions or comments, please contact us via our twitter (@PeteOSullivanPT, @JPCaneiro, @kieranosull, Ivan Lin, Sam Bunzli, @KWernliPhysio, @MaryOKeeffe007).
Special thanks to Dr JP Caneiro and Professor Peter O'Sullivan for their review of this blog prior to publication.
About the Author: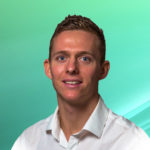 Kevin Wernli is a physiotherapist with a PhD in low back pain. He is passionate about empowering people to take control of their health as well as translating research into clinical practice through infographics, videos and as the co-founder and former co-host (with Professor Peter O'Sullivan and Dr JP Caneiro) of the Empowered Beyond Pain podcast. You can keep up to date with what he is up to through his social channels @KWernliPhysio
Please note this is not medical advice and we encourage a thorough assessment from a trusted healthcare professional to provide you with an individualised rehabilitation plan.